Direct Insurance is announcing a collaboration with Israeli insurtech startup Click-Ins, which is developing a technological solution for detecting visual damage to vehicles. Click-Ins' technology enables users to quickly scan the vehicle using their smartphone camera, and creates a detailed report assessing the damage to the vehicle's exterior within minutes.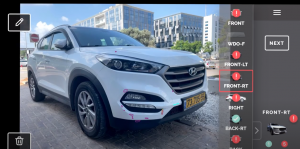 As part of the collaboration signed between the companies, Direct Insurance customers who are in the process of insuring their vehicle will receive a link to Click-Ins' web app, which will allow them to scan their vehicle using their smartphone camera, thereby streamlining and speeding up the process, while increasing accuracy by customizing it to the vehicle's condition.
The technology was tested in collaboration with GDH TLV, an innovation hub of Direct Insurance and Japanese insurance group MSI. The Israeli-Japanese cooperation focuses on locating start-ups, technology companies, ideas, and entrepreneurs to develop products and solutions for all insurance fields: automobile, property, life, health, etc.
The car insurance industry, which was considered particularly conservative, is undergoing a technological transformation in recent years, affected by developments in auto-tech as well as by the smart and autonomous vehicles revolution. New technologies in the field allow insurers to provide an improved, reliable, and more accurate service tailored to each customer and to the condition of the vehicle they wish to insure.
Click-Ins is developing an automatic solution for scanning damage caused to vehicles, using artificial intelligence and based solely on smartphone images in real time. This unique technology allows rental companies, insurance companies and automotive companies to automatically detect, analyze, process, and evaluate external damage caused to vehicles with the highest precision without requiring any special equipment or skilled personnel. The company uses uniquely produced synthetic data to accurately identify and analyze external damage to all types of vehicles.
Click-Ins was founded in 2014 by Eugene Greenberg, Dmitry Geyzersky, Ronen Abergel and Zeev Hazan. The company is backed by prominent strategic partners in the field such as Shlomo Group, Mobilion Fund, and different American investors, in addition to existing investors: Summus VC and UMI Israel. Doron Gohar was appointed CEO of the company one year ago, with the aim of opening the company to substantial global activity. The company employs 25 people in Israel, the US, and Europe.
Doron Gohar, Click-Ins CEO: "Click-Ins innovation and the convenience of using the app allow every driver to get a custom insurance price in just minutes, without having to deal with multiple forms and agents. The collaboration with a leading actor in the field like Direct Insurance will help make the bureaucratic process more user-friendly, automatic, and accurate."
Raz Bartov, VP of Technologies and Innovation, Direct Insurance: "With our collaboration with Click-Ins, we aim to make the car insurance policy underwriting process – and in the future the claims settlement process also – easier, more accurate, and faster. With Click-Ins technology, IDI's underwriting department is expected to automate the way in which the vehicle images submitted by the customer are processed, thus shortening the processing time and improving the customer experience."
Yuval Shani, Shlomo Innovation CEO: "We are happy such a significant insurance player is joining the Click-Ins clients. Shlomo Group was the first in Israel to implement the Click-Ins innovative technological service, in our car rental company Shlomo Sixt. We have been enjoying the product in all rental branches for about a year and a half now and consider it innovative and of great business value, as well as a great service for our customers. The product has become an integral part of our daily work and results in extremely high customer satisfaction"