The Insurtech Israel Global Summit brought together over 1,000 participants from Israel and abroad, including leading figures in the local and global insurance industry. The summit took place last week at the Hilton Hotel in Tel Aviv and was a joint initiative of Insurtech Israel, FinTLV venture capital fund, and conference exhibition company.
The summit was led by Kobi Bendelak, CEO of InsurTech Israel, and Gil Arazi, founder and manager of the FinTLV venture capital fund. Among the senior figures from Israel and around the world who participated in the summit were: Yoram Naveh, CEO of Clal Insurance and Finance Group; Ofer Brandt, Chief Actuary of the Capital Market, Insurance, and Savings Authority at the Treasury; Moshe Bareket, former head of the Capital Market, Insurance and Savings Authority at the Treasury; Roni Al-Dor, President and CEO of Sapiens; Ilanit Adesman, partner at KPMG; Avishai Zilbershatz and Orna Karni from the FinTLV venture capital fund; Frank Desvignes, Global Head of Open Innovation at insurance giant AXA; Sean Ringsted, Digital Manager of insurance giant Chubb; Arslan Hannani, Deputy President for Innovation at Travelers Insurance; Oudit Dot, Innovation Manager at Travelers Insurance; Tom Van Den Brulle, Innovation Manager of Munich Re Group; Nadia Suticoolphanic, Innovation Manager of Thailand's leading life and health insurance company Muang Thai Life (MTL); and Thomas Hurlimann, former CEO of international insurance giant Zurich Global Corporate.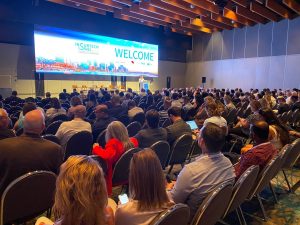 Leading figures from Israel's insurance and finance companies also participated, including Clal Insurance, Migdal, Harel, Phoenix, Menora, Ayalon, Shlomo Insurance, Direct Insurance, and leading insurance agents from Israel. Portfolio companies from the FinTLV venture capital fund also participated, such as Hippo, Next Insurance, AKUR8, Assured Allies, and Corvus. Among the sponsors were Clal Insurance and Finance, Bolttech, Discount Tech, Carelon, Sapiens, KPMG, Travelers, Sompo's Innovation Lab, and William Blair. Industry leaders were impressed by technology demonstrations from dozens of startups from Israel and abroad, who presented their solutions at the exhibition and participated in discussions on collaborations and investments.
The summit lectures focused on trends, challenges, and opportunities facing the global insurance industry, including the dramatic impact of AI and other technologies on the industry as a whole, and on health and elemental insurance in particular, underwriting, real-time risk management and pricing tools, personalization, claims management, and the integration of new technologies in the world of insurance. One of the most intriguing events of the summit was a panel where regulators and regulatory experts from around the world convened to discuss the impact of Generative AI technology on the stability of insurance companies and the protection of policyholders' rights.
Kobi Bendelak, CEO of InsureTech Israel, said, "The summit we organized was a peak meeting and a show of force for the local insurtech ecosystem, reflecting the trust of industry leaders from abroad who came to Israel to meet with the industry's elite and dozens of the best startups in the field."
Gil Arazi, founder and manager of the FinTLV venture capital fund, said, "It's wonderful to see partners from around the world creating synergy and business partnerships under one roof in Israel. We have expressed our ability to create value for the industry, which is also the strength of our fund, coming through the force multipliers of the global ecosystem that we operate for the benefit of our investors and portfolio companies."