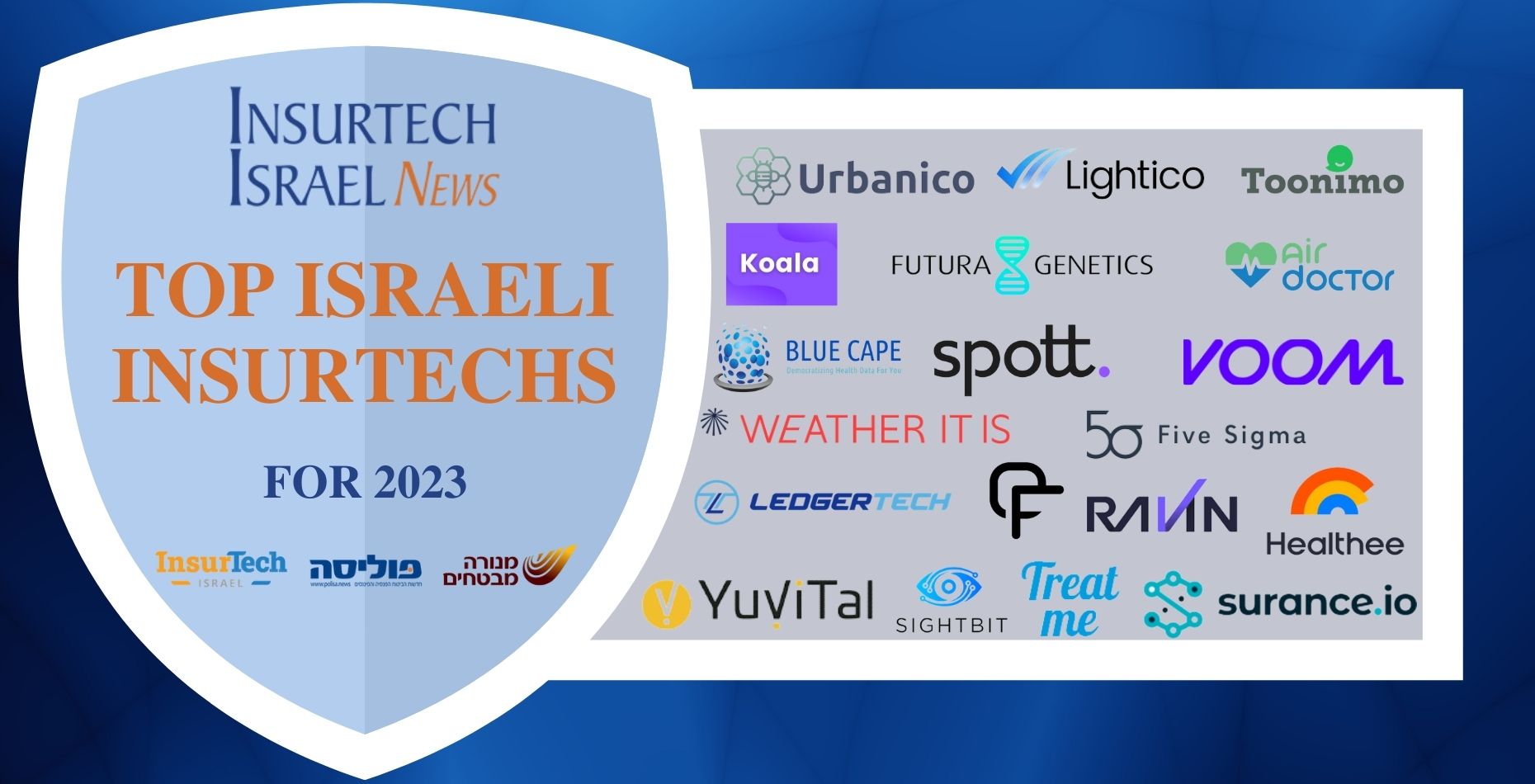 InsurTech Israel News – The leading Insurtech magazine in Israel, is happy and proud to present the winning companies in the competition of the TOP ISRAELI INSURTECHS FOR 2023. The contest was sponsored by Menora Mivtachim.
The companies were chosen by a team of professional judges and thousands of votes of people in the insurance and the Insurtech industry from around the world.
The competing categories were: Travel, Mobility, AI, Claims, Climate, Cyber, Health, Life, Marine, Pet, Platform, Sales, Service, Underwriting, Wellness, P&C, Promising Start-Up and Insurtech Israel News's Favorite.
Air Doctor was chosen by the voters to the first place In the Travel category. Air Doctor was Launched in Israel in 2018.  The winning startup connects travelers seeking medical attention with local doctors whilst abroad through their intuitive mobile and web app. With a global network of over 20,000 medical professionals across 2,000 cities in 75 countries, Air Doctor provides travelers with peace of mind and aims to make healthcare accessible to everyone, everywhere.
In the mobility category our readers chose VOOM – InsurTech MGA providing smartly priced, Usage Based Insurance for the Next Generation of Mobility – including drones, light aircraft, motorcycles, gig-drivers and more.
Ravin.AI, in a manner that suits her name, won the first place at the AI category. Ravin Turns mobile phones or CCTV cameras into advanced vehicle inspection devices. Through AI and computer vision, Ravin can scan a vehicle, detect damage, and enable faster transactions. Ravin settles claims quickly, cuts inspection costs, and limits fraud. Strategic partners include Toyota-Lexus and KAR Global across North America and Europe.
In the claims category, the first place goes to five sigma – A cloud-native claims management solution, built on AI and advanced data modeling that makes your claims processing simple and smart.
In the climate category, Weather it is was chosen to the first place. Weather it is an Advanced multilayer solution Prediction System, called CAT plus Live. WII integrated forecast system that can predict extrema weather events both the sub seasonal and seasonal time range. Enabling profitable pricing and accurate risk assessments for the insurance industry.
Surance.io won the first place at the Cyber category. The company is providing a Personal cyber protection & coverage.
At the Health category won Healthee – A startup making people healthier by improving the Awareness & Transparency of their medical rights.
In the Life category, Futura Genetics won the first place. The company has created the only genetics-based clinical grade Digital Health Platform & long-term personalized health program designed for carriers and brokers.
Sightbit won the first place In the Marine category. Sightbit is an AI Systems For Smart Detection Of Adverse Situations In Water.
Koala won the first place in the Pet category. Koala Is the only pro-active pet insurance in the market, offering 24/7 access to our AI symptom checker and a TeleVet before going to the vet, therefore minimizing vet visits and actively saving you money on your pet.
Ledgertech won the first place in the Platform category. LedgerTech is A digital insurance technology company providing a Low code/No code Insurtech platform for embedded insurance and MGA As A Service (MAAS).  Create new insurance products in days rather than months or years, and take advantage of our partner eco-systems of technology, data, capacity, and fronting providers. The Ledgertech platform can be used for any insurance use case and consumption models, including PAYG, PHYG, UBI and P2P.​
In the Sales category, the first place goes to Lightico – An award-winning SaaS platform that empowers insurance companies to eliminate breakpoints in customer sales and claims journeys. With the Lightico Digital Completion platform, insurers close more policies, simplify service, and expedite claims — all while delivering an unforgettable digital customer experience. Some of the world's most cutting-edge insurers rely on Lightico to bring their journeys to completion.
In the Service category, Toonimo in the first place. The only guidance platform on the market encompassing 3 levels of engagement; (Text Bubbles, Patented Audio-Visual).
Urbanico got the first place in the Underwriting category. Urbanico is an urban intelligence platform, providing P&C carriers with hyper-localized urban data, allowing underwriting teams to refine their risk selection and underwriting strategy by looking 150X closer into the personal related risk of each policy in their book.
In the Wellness category, Yuvital won the first place – a loyalty and rewarding, members engagement platform for health and life insurers and reinsurers.
Spott won in the category of P&C. Spott is an insurance platform that enables eCommerce businesses to acquire affordable and tailored liability insurance. By leveraging data and technology, Spott developed a real time highly accurate underwriting and pricing system with frictionless user experience. Spott is operating in the US, CA, and IL and is working towards a global solution.
Three start ups won in the Promising Start-Up category: Treat Me and Blue Cape . Treat Me provides End to End research-based, patient-centric recovery journey solution, as a service for the health & accident insurers. Blue Cape provide highly accurate, highly detailed historical, real time, and up to a month predicted data on the risk from respiratory diseases such as Covid & Influenza through an easy to integrate cloud-based API.
And last but not list – in the category of Insurtech Israel News's Favorite is Open Finance – Fintech company Open Finance has developed an AI based Open Banking platform that allows Financial companies to get their customers data from the bank, and make payments from the App. OF integrates the PIS (Payment initiation service) technology and AIS (Account information service) technology. OF's technology helps underwrite the private client of business in a fast digital rout.