InsurTech Israel News – The leading InsurTech magazine in Israel, together with a team of professional judges and thousands of votes of key player in the insurance and the Insurtech industry from around the world is happy and proud to present the 17 winning startups selected for The TOP Israeli Insurtech startups for 2022 (introductions in the order of A-Z):
Air Doctor; Binah.Ai; Covary; Digitalowl; Easysend; Emnotion; Five Sigma; Insurights; Lightico; Novidea; Open Legacy; Parametrix; Ravin; Surance; Trusty; Yuvital and Voom.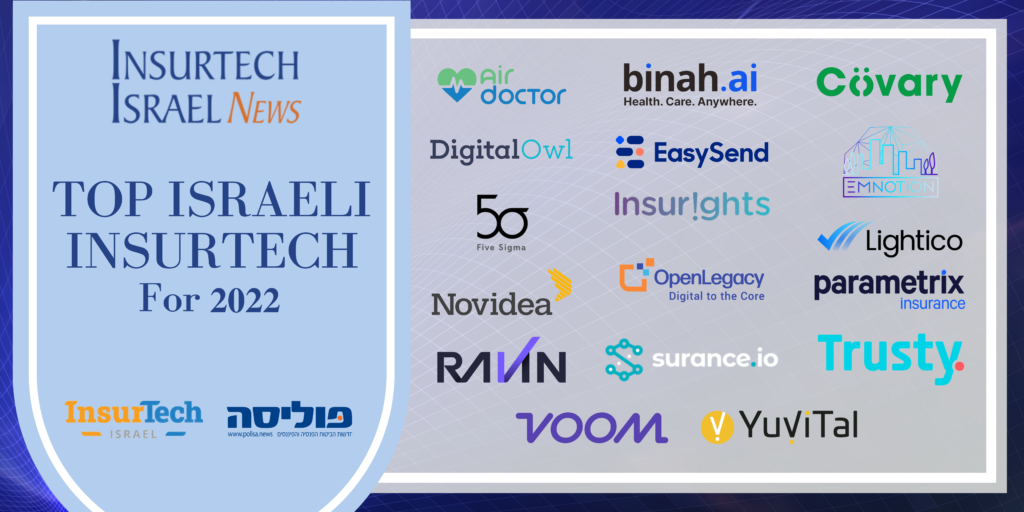 Air Doctor
Air Doctor connects travelers to local private doctors when they fall ill abroad, preventing unnecessary, often frustrating, and potentially expensive hospital visits, and reducing pressure on emergency care. The Air Doctor app connects travelers with the most appropriate doctor for their needs – from a global network of more than 20,000 comprehensively-vetted practitioners that spans 70 countries and includes GPs, pediatricians, dentists, ophthalmologists,  dermatologists, gynecologists, and orthopedic specialists as standard – to set up an online or in-person consultation.
Binah.AI
Binah.ai's software-only, video-based Health Data platform is the next stage in the evolution of health and wellness monitoring. By eliminating the need for wearables and dedicated hardware devices and transforming smartphones, tablets and laptops into health and wellness monitoring tools, Binah.ai is enabling healthcare, insurance and wellness industries worldwide to access an extensive range of health measurements (blood pressure, heart rate, heart rate variability (HRV SDNN and/or RRI raw data), oxygen saturation, respiration rate,
sympathetic stress, parasympathetic activity and pulse-respiration quotient (PRQ) just by having users look into their device's camera. Delivering on its vision and mission to support Health.Care.Anyhwere, Binah.ai is making access to user-provided health data fast, simple and affordable and empowering organizations to provide quality, personalized care and services at lower costs.
Covary.IO
Covary is on a mission to enable US freelancers to take time off and get paid for it. Covary created a P2P community based income protection platform and joined forces with the largest US freelancers' communities, to empower communities creating their own income protection plans and answer their members' needs.
DigitalOwl
DigitalOwl developed a proprietary Natural Language Processing (NLP) engine designed to analyze medical records and to save time and money by improving risk selection and lowering costs for insurance companies.
DigitalOwl SPEED UP the medical records review process and FREE UP talented resources to focus more time on critical activities! Manually reviewing hundreds of medical documents per case is time-consuming, tedious, labor-intensive, and error-prone. These cost challenges are amplified when highly skilled workers spend hours sorting through medical records. DigitalOwl solution automatically analyzes medical documents, including extracting medical data from imaged records. A deep understanding of the medical text creates a focused set of medical data points in a robust, meaningfully summarized format.
Easysend.IO
EasySend is a no-code customer experience platform for building and optimizing digital customer journeys. EasySend helps enterprises go digital by converting paper, PDFs, and manual processes into fully-branded customer journeys for any use case. With the platform, users can design, build and launch digital customer processes in days, and continually optimize with advanced analytics. The EasySend platform improves the customer experience cuts operational costs, and drives revenue growth. https://www.easysend.io/
Emnotion
Emnotion – Next Generation Global Climate Model.
Bankable forecasts for better planning and risk management.
High accuracy early alerts for catastrophic events.
Five Sigma
Five Sigma is a cloud-native, data-driven Claims Management Solution (CMS) with embedded AI/ML capabilities to allow intelligent claims processing for the insurance industry.
Five Sigma optimizes claims management by adding automated claims processing workflows, using data modeling and AI to provide smart recommendations, improving adjuster's decision-making, and reducing errors. Leading Insurance carriers, InsureTech, TPAs and Self-Insured companies use Five Sigma's CMS to modernize their Claims Management operations, reduce claims leakage, enhance compliance and improve their customers' experience.
Insurights
Insurights delivers transparency and simplicity to the world of employees' health.
Insurights is an AI-powered digital platform that becomes the organization's Chief Health Officer. Insurights can analyze and visualize any health plan, regardless of who is the carrier. It provides employees on-the-spot answers to their health coverage and benefits questions, helps them find lower-cost providers, and lets them know about relevant preventive care benefits to ensure they are healthier.
It is a true game-changer for how employees interact with their healthcare and a huge time saver for HR departments.
Lightico
Lightico is an award-winning SaaS platform that empowers insurers to accelerate customer journeys. With the Lightico Digital Completion Cloud™, insurers leverage no-code workflows to collect customer eSignatures, documents, and payments, and authenticate ID in real time — straight from the customer's smartphone. As a result, insurers enjoy faster and shorter sales and claims cycles, boost NPS, and significantly improve their completion rates.
Novidea
Novidea is a global provider of a leading data-driven insurance platform that enables brokers, agents, and MGAs to manage the customer journey, end-to-end, and drive growth across the entire distribution lifecycle.
The Novidea platform, built to leverage the power of Salesforce's Big Technology, provides a complete ecosystem that covers every aspect of an insurance business, including a 360-degree view of all management information, an integrated front- and back-office, and automated workflows that streamline every phase of the customer journey.
Using cloud-first technology, brokers, and MGAs have instant access to all customer data, with actionable intelligence, from any device, anywhere. This enables them to make better-informed decisions and deliver greater customer value as true risk consultants through products and services tailored to individual needs.
Novidea supports more than 100 customers globally, including agents, brokers, MGAs, and the London market, managing more than 20 million policies across 20 countries, worldwide.
OpenLegacy
OpenLegacy is an all-in-one digital modernization platform built to unlock cloud-first development with core system data and assets. The platform brings the simplicity, speed, and standardization of cloud-native development to enterprises with legacy core systems.
With the OpenLegacy Modernization solution, legacy and core applications can become first-class citizens in modern digital architecture. This means insurance customers can achieve results such as 90% improvement in TTM (from 6 months to days per service) and/or 20X reduction in cost (from $200K to $10K per service), dramatically expediting their digital transformation journey.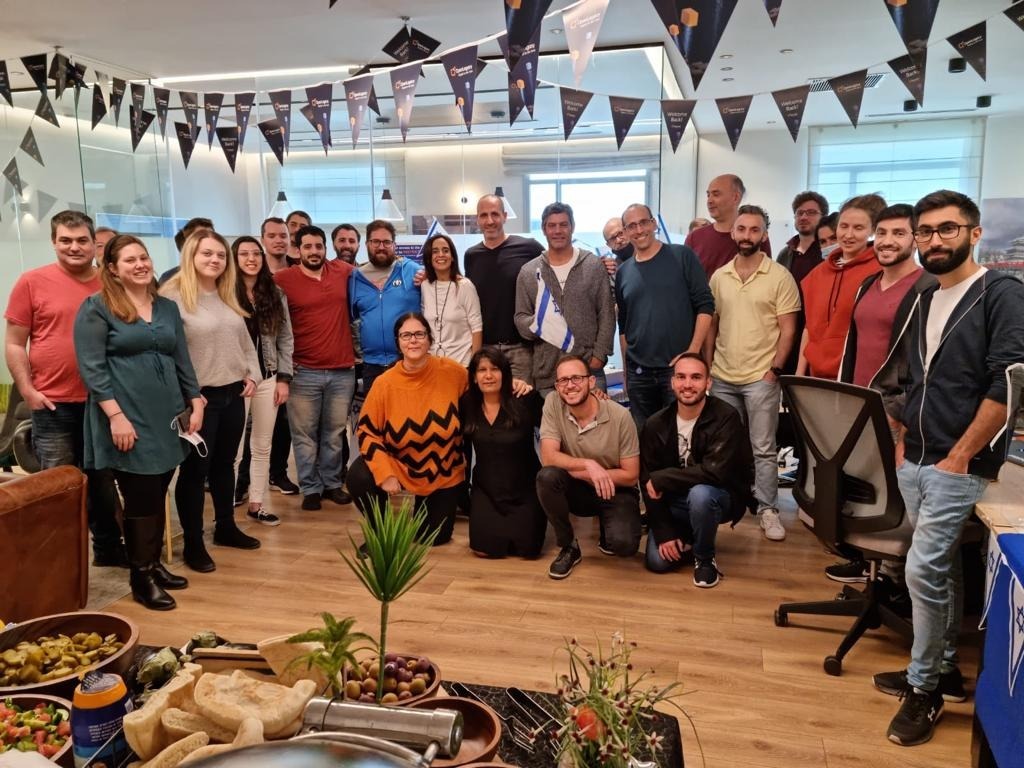 Parametrix Insurance
Parametrix Insurance is the only provider of parametric cloud downtime insurance with policies that cover financial losses for businesses when outages of cloud or e-commerce platforms occur with no claims adjustment process. Based on the data generated by our monitoring technology, the company provides policies with short waiting periods, no usage restrictions, and aggregation management tools. Their platform automates risk assessment, provides instant quotes and delivers payments within days. Parametrix Insurance is backed by certain underwriters at Lloyd's of London and Hannover Re.
Ravin.AI
Ravin.AI turns standard mobile phones or CCTV-style cameras into advanced vehicle inspection devices. Through deep learning and computer vision, Ravin is able to scan a vehicle, detect damage, and enable faster transactions between vehicles. This includes, but is not limited to; rentals, off-lease remarketing, vehicle logistics and transport, insurance claims and collision repair assessments. Ravin's common tools can be mixed & matched to create the perfect inspection & reporting flow. Ravin operates across North America and Europe and among its strategic partners are Toyota-Lexus, KBC Insurance, and KAR Global (owner of ADESA auctions, AutoVIN inspections and more).
Surance.IO
Surance.io operates an end-to-end proactive & preventive personal cyber insurtec solution, platform and Mobile App, enabling insurance carriers to offer a frictionless product to policy holders. Surance.io operates the policy following production, through risk assessment, ongoing prevention and personalized alerts, 24*7 AI bot &Human personal advisor for cyber issues and response to stop attacks, restore and replace devices and date and more.
Trusty
Trusty is an Insurtech startup, developing a new digital distribution channel for insurance brokers/companies and consumers by operating a unique MARKETPLACE and Price Comparison platform.
As Airbnb for the hospitality industry, Trusty's platform allows insurance sellers to offer policies directly to consumers without any integration nor marketing, and provides insurance buyers to easily compare offers and prices from multi-suppliers competing on a single platform.
Currently Trusty is active in the Israeli market and serves over 60 insurance distributors, but targeting and aiming its vision and unique business model to the European market.
Trusty was founded in 2018 by Eyal Schwartz, an insurance professional and Chen Amishay, founder and former CEO of TraveList, the leading price comparison and marketplace in Israel (Acquired in 2010), with a vision to transform insurance shopping experience from intimidating to simple and comfortable.
Voom
VOOM is an InsurTech company providing smart insurance products for the future of Mobility. Its dynamically-priced, usage-based insurance solutions are designed for high-risk, episodic-use mobility verticals, including drones, light planes, motorcycles, gig drivers, and more.
Already the leading commercial drone insurance provider in North America with Skywatch. In addition, VOOM has created unique usage-based insurance products for motorcycles with the world's first Pay Per mile motorcycle insurance, and on-demand insurance for light aircraft.
The company was founded by Tomer Kashi, CEO & Co-founder, and Ori Blumental, CTO & Co-founder, and has raised $22 million from leading investors such as UP. Partners, Jal Ventures, F2 Capital, Kaedan Capital, Arbor Ventures, Verizon Ventures & ICON Continuity Fund.
YuviTal
YuviTal (formerly known as Rumble) is a digital rewarding and loyalty platform for positive behavioral change. The company provides organizations, insurance companies, HMOs, and employers worldwide with a tailored solution to improve their members' life.
With YuviTal, health insurers can personally influence their policyholders to improve their lives and prevent future diseases. The solutions are application-based and designed to incentivize healthier choices. To this day, more than a million people are using YuviTal's apps such as Clalit Active, Ovdim Bari, Rumble, and more.
YuviTal is named after Yuval (Yuvi) Dagan and Tal Ifrach, who were killed in Operation Protective Edge in 2014.