The Insurtech ecosystem in Israel is growing very fast, with about 100 companies currently in this field. Israel is home to the world's leading Insurtech companies and has seen mega-investment rounds.
Lemonade completed its Initial Public Offering in July 2020. The company priced its IPO at $29 per share, raising approximately $319 million at a market capitalization of approximately $1.6 billion.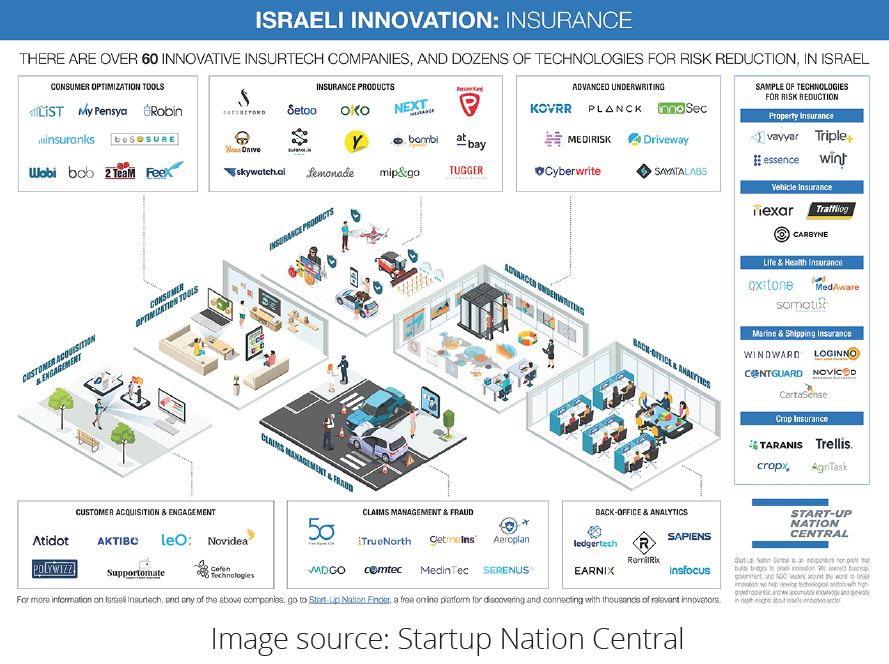 Next insurance raised $250 million led by Munich Re, and recently announced another $250 million round led by Capital-G with participation from Munich Re. Hippo raised $350 million led by
Mitsui Sumitomo. Mitsui also provided Reinsurance Treaty. The rest of the Insurtech investments are smaller rounds but still reflect the growing market.
We believe that this list will grow, thanks to the talent, hunger, and drive that Israeli entrepreneurs have. We also believe that Israeli start-ups will become more sophisticated with their solutions, utilizing their tech capabilities and leveraging their business use cases. For many years, the greatest challenge for Israeli start-ups was scaling outside of Israel, but the leader of the market has proven us wrong.
Looking at the start-up map above, we believe that the "Technologies for Risk Reduction" section has the greatest potential for growth. We are identifying additional companies in the Israeli market that can develop solutions for risk mitigation and reduction. Those companies are not addressing
insurance companies today, but their technology is highly attractive to us.
We believe it is a matter of time until those companies join the insurance sector and develop offerings for carriers. This is a large part of our role here in Israel.
POST COVID-19 – What are the biggest innovation trends, and how are they relevant to insurance?
It's Partnership Time
I always say that in innovation, 1+1=3. The power of combining two different sets of expertise into one partnership outweighs the value of both. Covid strengthened this trend, especially in Insurtech where the ecosystem plays an important role. It is the time to partner with existing players with unique and strong offerings.
The Speed of Digitization
Everyone understands that they need to ensure business continuity and the digital enablement of their own work force and products. It is becoming increasingly clear, however, that for many, returning to work will be a process that could take a year or more, and that they cannot go back to the way things were. Instead, companies will want to seize the moment to reimagine and reinvent the future, building new muscle and capabilities to come back strong. Even well-run companies may find that they need to reinvent themselves more than once.
For insurance, that means we must accelerate digital-product building. Also, while building digital products, we must consider that buying behavior has changed dramatically during the Coronavirus pandemic. For example, people that had never purchased goods online have now set up Amazon accounts.
Rethink Distribution Strategy
We can no longer rely on one distribution channel. We need to find new and additional distribution channels. This applies to various players along the supply chain and across different industries, including OEM's, manufacturers and suppliers, as well as primary insurers and brokers.
Please follow Dikla on LinkedIn for the full 2020 Insurtech investments in Israeli start up report that will be published at the years end.