Dikla Wagner, head of tech scouting for Munich Re in Israel presented Munich Re's map for investments in Israeli Insurtech companies during 2020.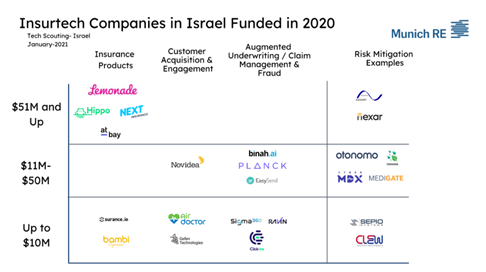 Wagner told Insurtech Israel News: "In 2020, Insurtech leaders are responsible for mega investment rounds and even an IPO. It is not surprising that those players offer digital insurance products. We can say with confidence that digital product building will continue to accelerate in 2021.
This trend articulate customers' needs and market dynamics during and post covid-19. Also, Israeli claim management & fruad tech received traction during 2020. We hope to see the Israeli players continuing to scale taking into consideration strong competitors in the US market.
"We can see in the map examples for "risk mitigation" tools. This section includes companies that are not Insurtech companies but offer data that is valuable to risk quantification and mitigation.  We believe additional companies will explore this use case and develop offering to insurers".