The fifth cohort of the Israeli insurtech accelerator, which was held on the initiative of Insurtech Israel ended last week with an event with the participation of, amongst others, Sabine Vanderlinden, Co-founder at Alchemy Crew and one of the most influencers in the global insurtech space, Dana Alexandrovich, COO at Microsoft Israel and tens of entrepreneurs in the insurtech sector.
The accelerator graduation event took place at Microsoft headquarter in Herzelia.
Also participating in the panels was Tali Evron, Senior treaty broker and operations officer at Aon Reinsurance Israel, Meytal Shavit, Director of Strategic Partnerships at Sompo Tel-Aviv, Sivan Peleg, Manager, Client and Market Growth at Deloitte Catalyst, Alon Kor Chief Information Officer at AIG Israel, Tal Langevich Avraham, Chief Digital Officer & Innovation at Menora Mivtachim, Dikla Wanger, Head of Tech Scouting in Israel–MunichRe, Daniel Sharon, Principal at Milliman and Sharon Shefer, Senior partner – Levitan Sharon & Co.
Six insurtech companies took part in the accelerator's second session:
Blue Cape – provides highly accurate real-time and historical data on the risk from respiratory diseases to the L&H Insurance Industry in order to help them improve the performance of their portfolios.
InsureTax – proprietary tax actuary and online underwriting platform are the only one which provides tax insurance for small businesses and their owners against unexpected tax audits by the IRS, addressing a massive untapped market.
umAI – is an innovative AI solution that optimizes and automates the claims management process, thus resulting in reduced loss ratio and claims processing time, while saving operational costs and standardizing claims settlement mechanics.
Predicta Med – is a healthcare technology company that provides a proprietary decision support platform for early identification and guideline-based intervention recommendation for patients with undiagnosed immune-related diseases.
Gabriel Network – Gabriel is a next-generation active threat solution that dramatically reduces the risk of an incident costing unnecessary lives and damage.
LiST Funding – LiST is a life science research business that utilizes large-scale medical data in order to develop machine learning predictions for underwriting longevity.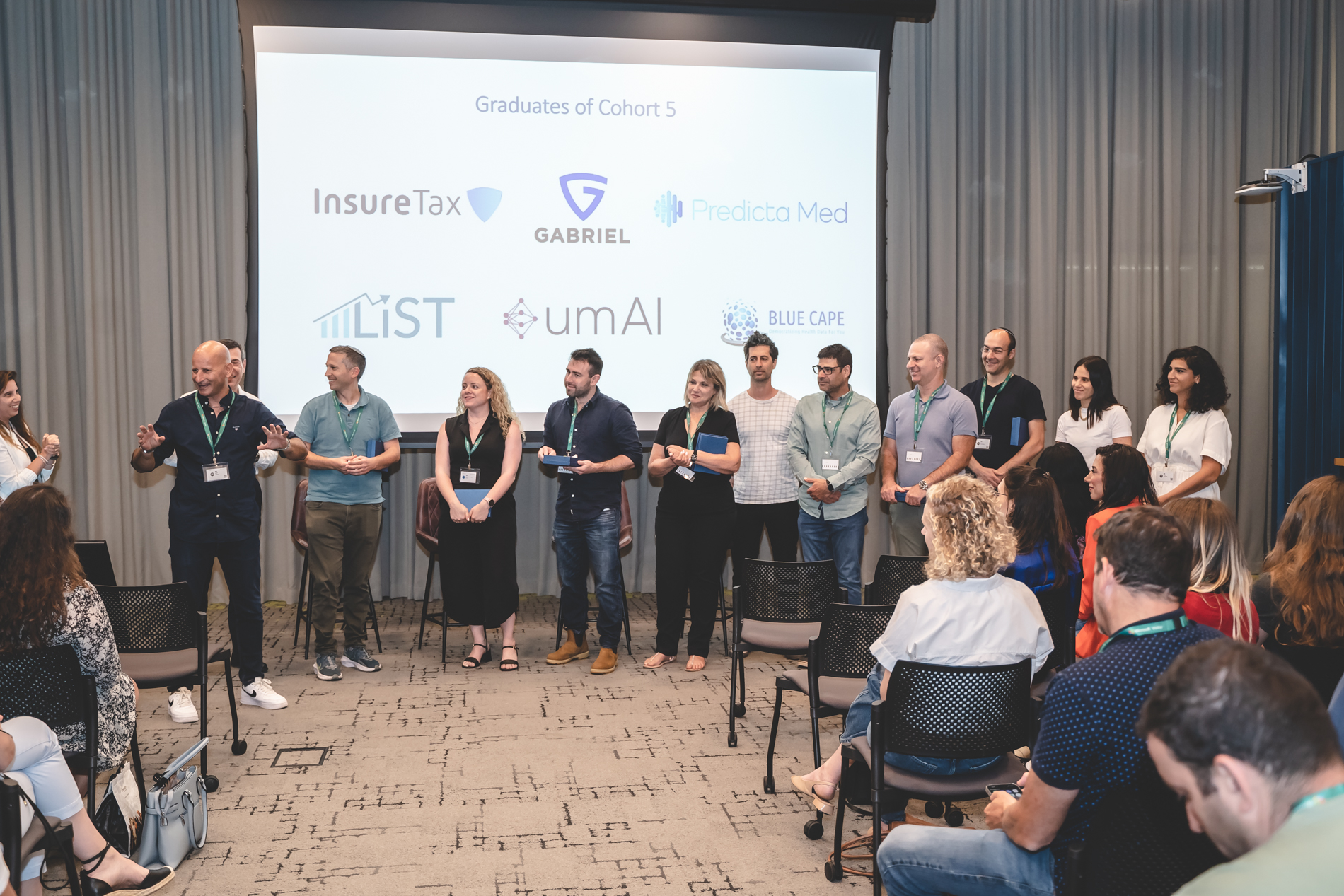 Partnering in the accelerator: BrokerTech Ventures, and also the Alifim and Tikotzki insurance agencies, and insurance, finance, and technology giants including BrokerTech Ventures InsurTech Israel Xceedance Sompo Digital Lab Tel Aviv Milliman Sapiens Deloitte Dell Technologies McDermott Will & Emery Clyde & Co Levitan, Sharon & Co. Aon Reinsurance Israel bolttech IAG Firemark Collective Gross Orad Schlimoff Law Firm Menora Mivtachim Group Lloyd's AIG AF – Group ReSource Pro  Kissterra, Microsoft.
Kobi Bendelak insurtech israel CEO: "The traditional insurance companies are in competition with other traditional insurance companies, but also with new players entering the sector. This requires them to cope with a far bigger challenge – making the digital change within themselves. The insurtech industry is the engine for this historic change. The accelerator's cohorts saw the creation of a group of amazing entrepreneurs at different stages. During the five cohorts, the startups raised over 100 million dollars and signed over 25 contracts. It looks like something good is happening here".