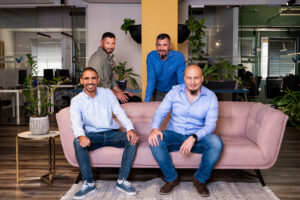 Lightico's Digital Completion Cloud allows insurance brokers and underwriters, as well as financial institutions quickly and efficiently complete high-friction interactions with their customers such as loan originations, e-signatures, document collection or onboarding.
The problem that we want to solve is a Broken customer journeys that result in poor customer satisfaction and lost deals.
The key figures in the company are Zviki Ben Ishay – CEO and cofounder, Justin Josh – CTO and cofounder, Omri Braun – COO and cofounder, VP Product – Avi Lousky and VP People – Shani Kotzer.
This article is a part of a series of articles presenting the Israeli delegation to the ITC conference.
What is your business model?
SaaS.
How do you see the current situation in that area on the insurance industry today?
The insurance industry has taken significant steps towards digitalizing but there are still many broken journeys which mean less deals closed and frustrated customers.
What investments have been made in the company so far?
Lightico has raised $42m to date. Main investors are Capital One, Oxx, Mangrove Ventures and Crescendo Ventures.
What is your current business situation?
Lightico has been rapidly growing since the pandemic started as companies were forced to develop mobile abilities to serve their customers. We've signed notable enterprise-level customers such as Capital One, BT, GSK and Metlife.
Which companies interests you?
We're primarily focused on enterprise in the insurance, auto finance, banking and telco space.
 Why are companies that digitalize still struggling to meet consumer demands?
While everyone has some level of digital today, the question is how seamless and integrated systems are. Can everything be done digitally? Or are you doing 90% of a journey digitally but then requiring them to fax or print, scan or fax something. It is critical today to ensure that journeys can be done fully digitally and not silo