GreenRoad is engaged in the area of driving safety and driving monitoring * GreenRoad is on the way to establishing commercial collaboration with DIG, which is controlled by Eyal Lapidot * DIG is seeking to act as an insurer in Israel
GreenRoad Insights, an international company engaged in driving safety and mainly driving monitoring, is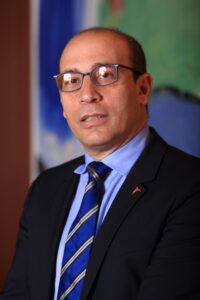 planning on penetrating the Israeli insurance market. GreenRoad has engaged in an investment agreement with Moonstone Investments, controlled by former Phoenix CEO Eyal Lapidot, with a view to establishing insurance activity in Israel. The execution arm is planned to be DIG, which is controlled by Moonstone, and which is currently acting to obtain an insurer license in Israel.
According to the share issue prospectus which GreenRoad published in July 2021 the company signed an agreement with Moonstone to set up commercial collaboration between the technology developed by GreenRoad and DIG's insurance platform. GreenRoad has also appointed Lapidot as chairman of the advisory committee on insurance and as the Moonstone representative.
Subject to receiving DIG's insurer license, GreenRoad will be given the right to invest in DIG's initial investment rounds an amount equal to that invested by Moonstone. The draft makes it clear that GreenRoad will not be entitled to invest more than 10% of the cumulative sum raised in each round, and will not be entitled to hold more than 3% of DIG's issued share capital in full dilution.
In consideration of Lapidot's services, Moonstone will be granted regular shares (RSU) over a period of two years.
This is not GreenRoad's first insurance activity. GreenRoad has been in a strategic partnership since 2020 with QBE an Australian insurance company, for distribution of the company's products in Australia and in England.
QBE will likewise be marketing GreenRoad's technology to its customers at a reduced price or will sell them part of the insurance services offered by it, the cost of which being part of the insurance premium.
In July 2020 GreenRoad signed a collaboration agreement with Sapiens, under which Sapiens will be referring potential customers for GreenRoad's products.
120 thousand drivers in 140 fleets
GreenRoad is an international company in the field of driving safety. Its customers include 140 vehicle fleets operating in 60 countries and is used by 120 thousand drivers, mainly in the bus and transport sectors, and also in the area of energy and dangerous materials.
The technology that has been developed by the company is aimed at real-time monitoring of driving, immediate feedback to the driver, whilst investigating the information gathered enabling the learning of lessons and improving safety and resources usage efficiency. The company's products include a technology that identifies a "safety event" and complex scenarios over a wide range of levels of seriousness, in accordance with the type of vehicle.
The system uses an internal measurement process which ranks the level of driver risk, which is determined, amongst other things, according to the number and type of safety events and their frequency, which are documented in the system installed in the vehicle or in a digital product, such that the higher a particular driver' driving risk is, so his risk score increases. The driving risk scoring represents a measure enabling supervision and control of the fleet drivers by the fleet managers, improvement of driving habits, and creates a basis for friendly competition between the fleet drivers.
Apart from protecting human life, the company believes that reducing the number of accidents could contribute to reducing insurance costs. In addition, safe driving can contribute to reducing significant operating costs, such a fuel costs and well as reducing wear and tear of the vehicles.
A following wind from the regulator
The prospectus says that travel restrictions imposed in a number of countries, as result of the Corona epidemic, have raised amongst the insureds the desire to match the amounts and conditions of payment to the actual extent of travel. GreenRoad estimates that this will accelerate the need for adopting technology for monitoring the use of vehicles for the purpose of operating policies or charging of premiums only for active fleet vehicles.
Another possible source of acceleration, according to the prospectus, could take place in the regulatory field, since regulatory initiatives could come together to require fleet owners to install systems assisting in reducing road accidents caused by human error or as a result of a mechanical cause, whether via legislat